Cloud-First Log Management and Data Pipelines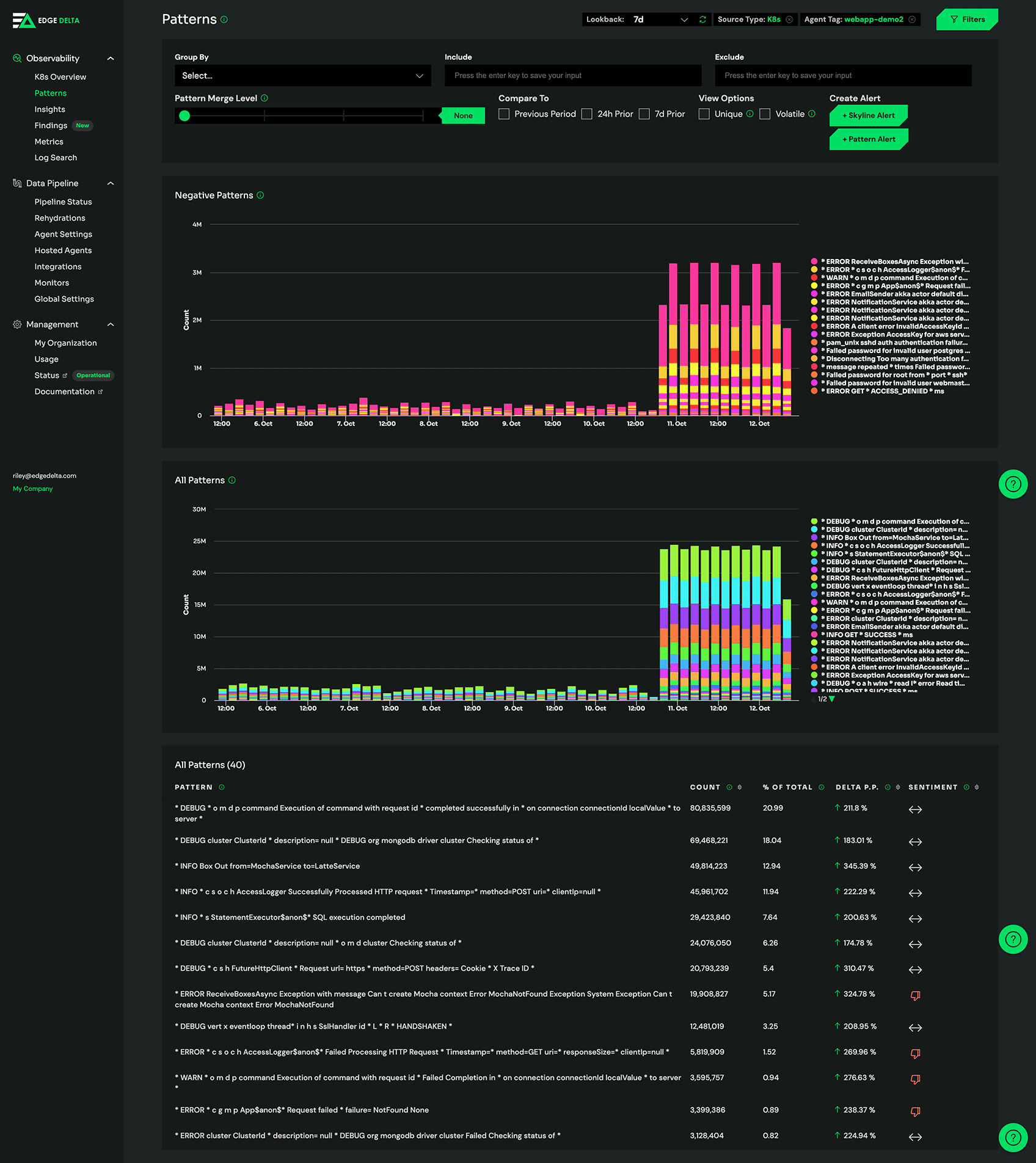 Log Analytics and Visualizations
Make sense of your noisiest datasets
Kubernetes Overview

Visualize the health of your Kubernetes resources. Drill into components and investigate signals in clicks.

Logs to Metrics

Summarize high-volume, noisy datasets into lightweight, consumable KPIs that are easy to track over time.

Patterns

Group recurring loglines into patterns to reduce noise, simplify troubleshooting, and quickly see new behaviors.

Source-Level Patterns

Monitor behaviors in Kubernetes environments down to the namespace or container level.

Insights

Observe Kubernetes events and understand how they're affecting service behavior.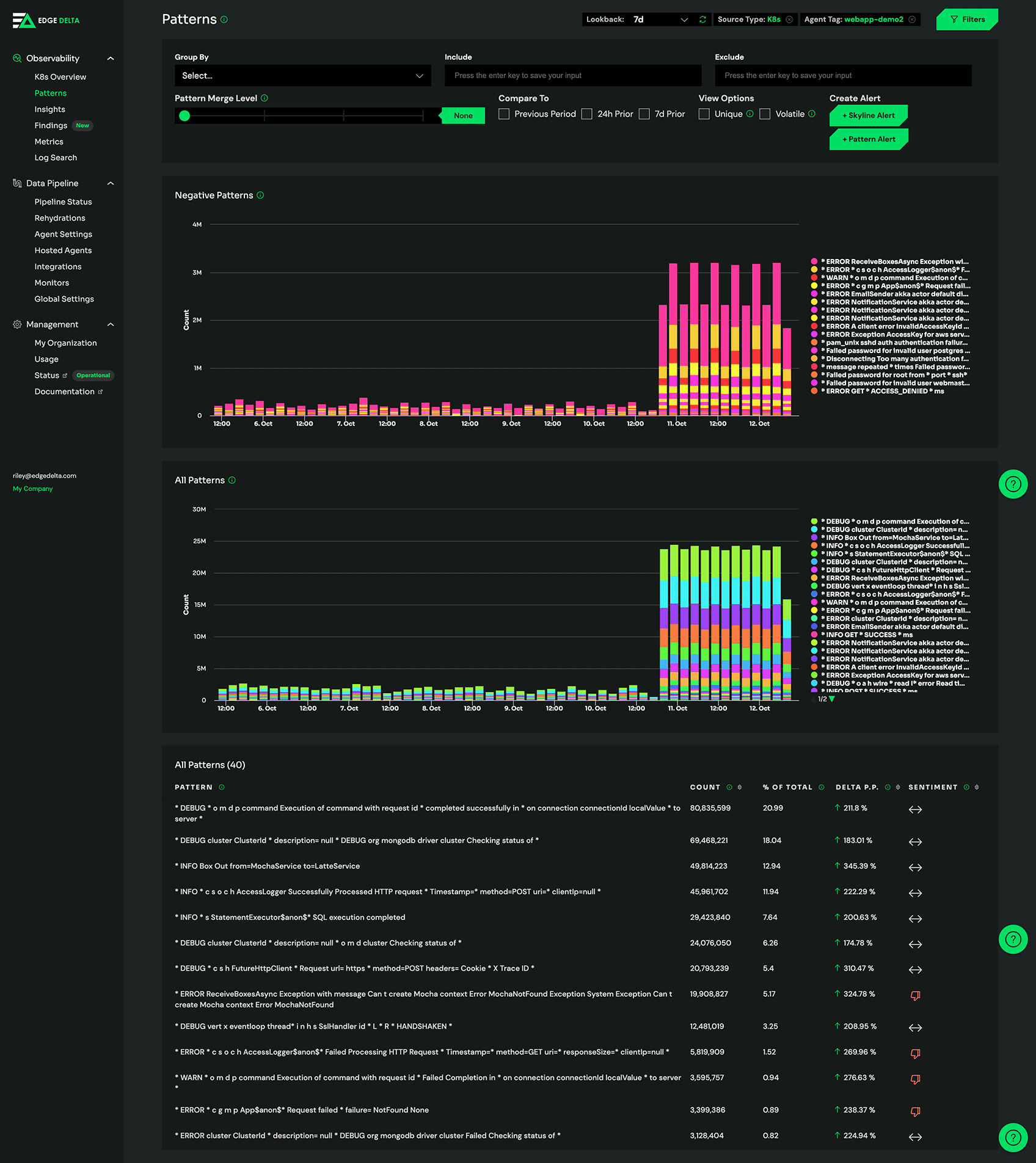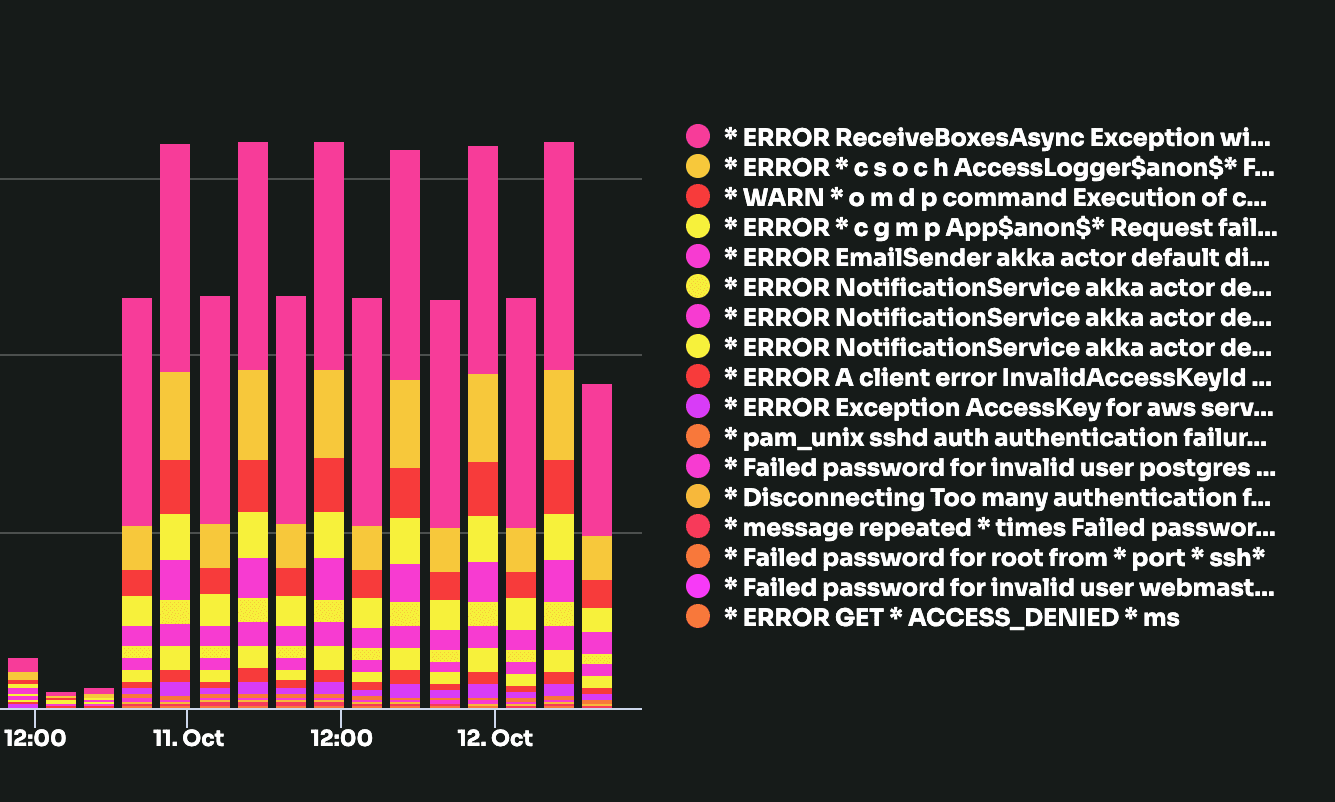 Detection and Root-Cause Assistance
Spot issues faster and simplify troubleshooting
Anomaly Detection

Detect every anomaly – even unknown problems or issues you haven't built logic to catch.

Findings

Resolve issues in minutes with full context and raw data tied to an incident or anomaly.

Automated Alerts

Trigger automated and custom alerts at the infrastructure level for lower fatigue and faster response.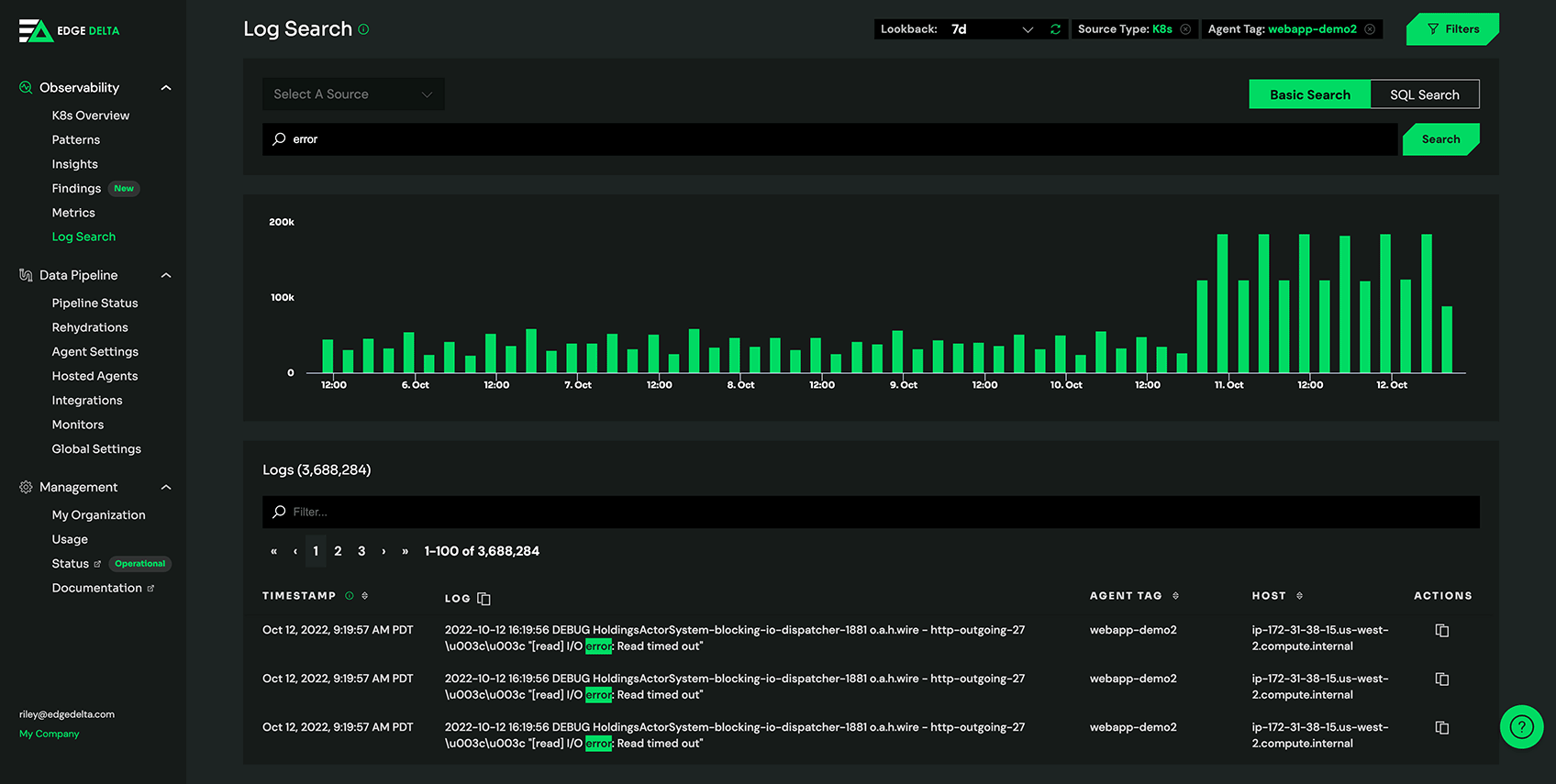 Full-Fidelity Data Access
Maintain complete access to your log data without relying on a downstream index
Live Search

Store and search on all log data ingested into Edge Delta.

Enterprise

Object Storage Search

Route all data to your preferred storage target, instead of a downstream log index. Live search from Edge Delta.

Enterprise

Raw Log Forwarding

Capture and route raw data tied to an anomaly, new deployment, or other critical occurrence.

Enterprise

Rehydrations

Ingest and index any subset of logs from object storage into your observability platform.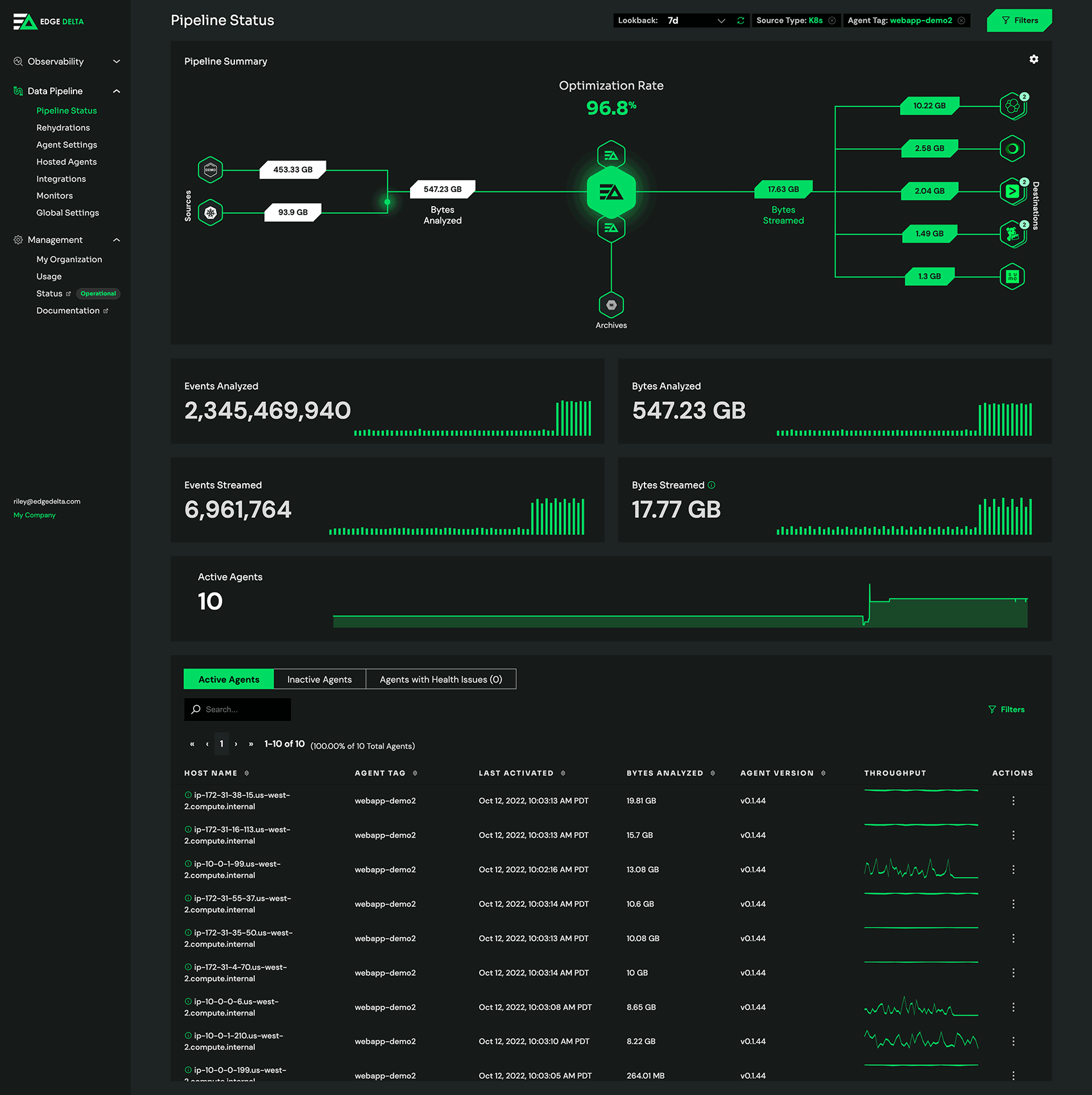 Observability Pipelines
Gain complete control over what you index in your observability platform
Enterprise

Data Routing

Move raw, enriched, or optimized log data from any source to any location.

Enterprise

Transforms

Enrich and optimally format log data to derive more value within downstream systems.

Enterprise

One-click Integrations

Connect your data and insights with your other observability, analytics, and incident response tooling.
Run Edge Delta for Free
Get up and running in minutes
Deploy Now